Power to Redeem - Lauren Daigle (featuring All Sons & Daughters)
You take what is
And you make it beautiful
When love floods in,
We're restored forever more

With breath that brings the dead to life,
With words that pierce the dark with light
Only by the blood are we set free.
With mercy strong to carry shame
And nail it to a tree You alone
Hold the power to redeem.

No guilt competes
With innocence crucified.
No grave can hold what your grace has justified.
With breath that brings the dead to life,
With words that pierce the dark with light
Only by the blood are we set free.
With mercy strong to carry shame
And nail it to a tree You alone
Hold the power to redeem.

Rejoice oh child of God
Lift your eyes to see
With every morning light,
Again we are redeemed

With breath that brings the dead to life,
With words that pierce the dark with light
Only by the blood are we set free.
With mercy strong to carry shame
And nail it to a tree You alone
Hold the power to redeem.

Oh you alone, hold the power to redeem
Galatians 3:12-14 – "The law is not based on faith; on the contrary, it says, "The person who does these things will live by them." Christ redeemed us from the curse of the law by becoming a curse for us, for it is written: "Cursed is everyone who is hung on a pole." He redeemed us in order that the blessing given to Abraham might come to the Gentiles through Christ Jesus, so that by faith we might receive the promise of the Spirit."
John 10:9a – "I am the gate; whoever enters through me will be saved."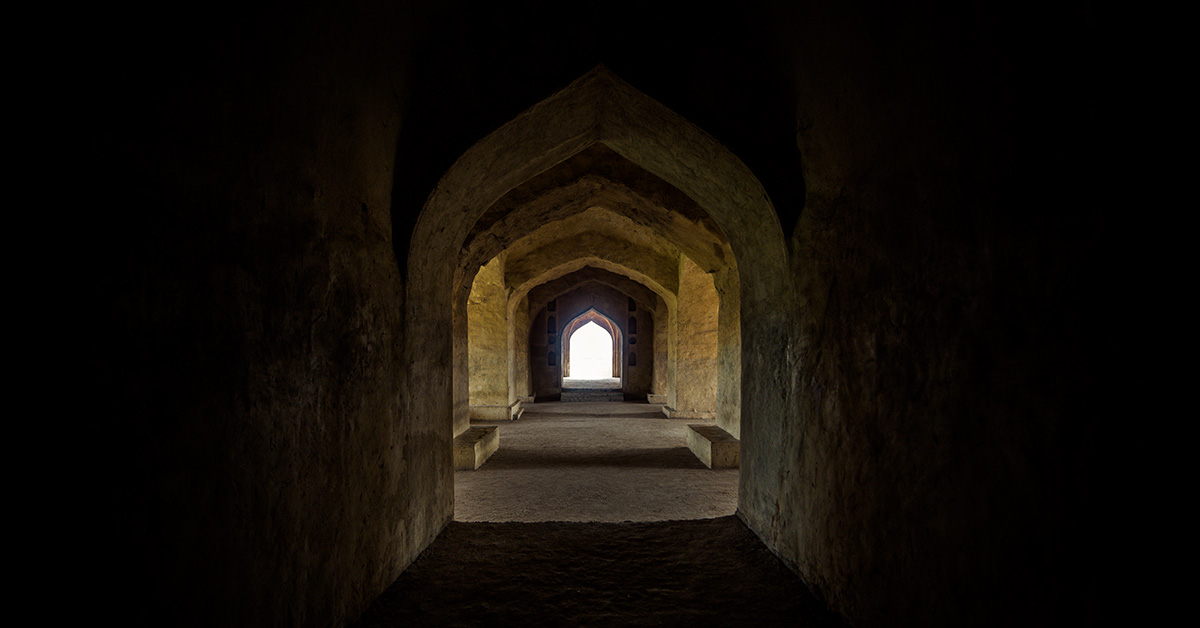 Humanity struggles with boundaries. We want to be able to do what we want, when we want and how we want. We live by the mantra, "Do what makes you happy!" We fall into the lie that happiness in this life is the purpose for our existence. So, we do what we want, when we want and how we want without regard for eternal consequences.
Unfortunately, there are eternal consequences. If you have heard the gospel of Jesus Christ, you are accountable for your response to it. John 9:41 says, "Jesus said, "If you were blind, you would not be guilty of sin; but now that you claim you can see, your guilt remains."
A stumbling block for many is that Christianity claims accepting Jesus as Saviour is the only way to heaven. The world looks at this concept as narrow-minded. They cannot accept that there is only one path to salvation. In John 14:6-7 we read, "Jesus answered, "I am the way and the truth and the life. No one comes to the Father except through me. If you really know me, you will know my Father as well. From now on, you do know him and have seen him." He is the only entrance to eternal dwelling with the Father in Heaven.
Lauren Daigle's song, Power to Redeem, pursues this truth. When she sings, "You alone hold the power to redeem", my heart rejoices in the comfort those words provide. I don't see this statement to be narrow-minded. In all honesty, I find it comforting to know that there is only one way to the Father. We don't need to continually search for the truth. It has been provided to us and it is in Christ.
May you also find cause to celebrate that your sins are forgiven because of Christ. May you rejoice in the knowledge that your dead spirit has been brought to life in Him. Praise Him for calling you to enter through the narrow way. "Enter through the narrow gate. For wide is the gate and broad is the road that leads to destruction, and many enter through it. But small is the gate and narrow the road that leads to life, and only a few find it." (Matthew 7:13-14)
There is only way to salvation: Jesus Christ! Only He has the power to redeem!