Hands of Love – Crowder
In His hands that hung the sky
In His hands that touched the blind
In His hands, He is holding me

In His hands that flung the stars
In His hands that bear the scars
In His hands, He is holding me

Oh, Jesus, the One who frees us, the One who holds us all up
Jesus, the One who saves us, the One who holds us all
In His hands of love

In His hands that bring us life, in His hands we come alive
In His hands, He's holding us

Oh, Jesus, the One who frees us, the One who holds us all up
Jesus, the One who saves us, the One who holds us all
In His hands of love, in His hands of love, in His hands of love

Come cover us, come cover us, come cover us, in Your hands of love
Come cover us, come cover us, come cover us, in Your hands of love

(Come cover us, come cover us, come cover us, in Your hands...)
He's got the whole wide world in His hands
He's got the whole wide world in His hands
He's got the whole wide world in His hands
He's got the whole world in His hands

Oh, Jesus, the One who frees us, the One who holds us all up
Jesus, the One who saves us, the One who holds us all
In His hands of love, in His hands of love, in His hands of love
John 10:27-28: My sheep listen to my voice; I know them, and they follow me. I give them eternal life, and they shall never perish; no one will snatch them out of my hand.
Psalm 85:2: You forgave the iniquity of your people and covered all their sins.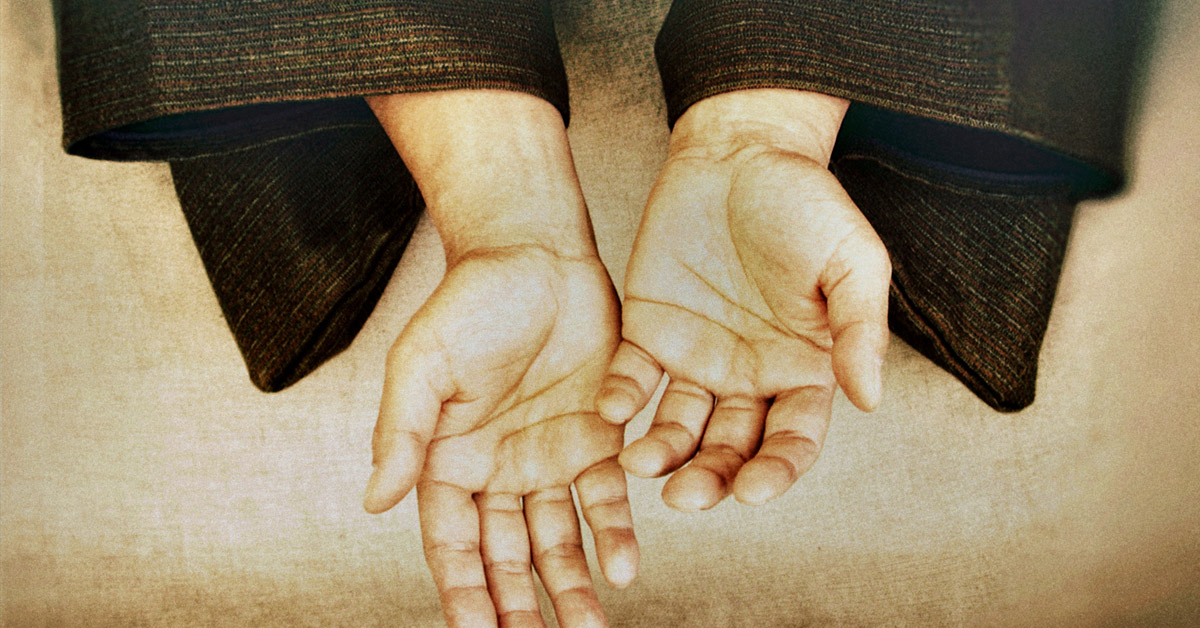 Hands of Love by Crowder is one of those songs that you simply can't listen to and sit still. I love listening to this song in the morning as it helps me get up and get moving. Beyond the fun and catchy melody of the music, the lyrics speak of a loving Saviour who covers us with His hands. Oh the protective hands of an all-knowing God!
As I consider the concept of what it is to be covered by the hands of God, I am ever thankful for His saving grace and for covering my sin with Christ's shed blood. I am grateful for the freedom I have found in faith in Christ and the new life I have been given – eternal life.
When I was first introduced to this song, my husband, Ray, was heading on a mission trip to Peru. I found comfort in the thought that God holds me up, that He covers me, that He has the whole world in His hands. While Ray was thousands of miles away from me, I could vividly picture us both being held and cared for by our loving God. The world seemed a little bit smaller knowing that we were very much connected through our faith.
As I continue to listen to this song and consider the lyrics, I am also profoundly convinced that the words point us to an even greater protection than a physical one – that of an eternal nature. Jesus has freed us from the bondage of sin and has saved us from an eternity separated from Him through His death on the cross. What greater protection can there be than our salvation?
Some may listen to this song and think the lyrics only suggest that we are to be safe and secure while on this earth, that no bad circumstances should come our way because we have faith in God. 1 Peter 4:12-13 says, "Dear friends, do not be surprised at the fiery ordeal that has come on you to test you, as though something strange were happening to you. But rejoice inasmuch as you participate in the sufferings of Christ, so that you may be overjoyed when his glory is revealed."
I can certainly attest to being surprised at trials that come my way. I know to expect them but when they show up, I'm still taken off guard. Even Paul, speaking to the Thessalonian church said in 1 Thessalonians 3:24, "We sent Timothy, who is our brother and co-worker in God's service in spreading the gospel of Christ, to strengthen and encourage you in your faith, so that no one would be unsettled by these trials. For you know quite well that we are destined for them. In fact, when we were with you, we kept telling you that we would be persecuted. And it turned out that way, as you well know." We are destined for trials! Oh how my heart should rejoice in sharing in the suffering of Christ but how weak and fearful it is!
And then the lyrics of Hands of Love ring in my ears, "Oh Jesus, the One who frees us, the One who holds us all up. Jesus, the One who saves us, the One who holds us all in His hands of love… Come cover us…" Regardless of the trials or the physical afflictions we may face, He holds us eternally in His hands of love. He offers us something greater than physical safety while here on earth and that is eternal security through our faith in Him.
Romans 8:38-39 is an amazing reminder of the God we serve and how we cannot be separated from His love for us. "For I am convinced that neither death nor life, neither angels nor demons, neither the present nor the future, nor any powers, neither height nor depth, nor anything else in all creation, will be able to separate us from the love of God that is in Christ Jesus our Lord." We are safe in His hands of love!